The Best Free Alternatives to Photoshop
Photoshop is great but if you don't have the bread to be able to buy it then you're still not out of luck
Read on to learn about all of the alternatives to photoshop, and they are all free!
There are many alternatives to Photoshop, and some are even free. Some even come pretty close to having all the features that photoshop has. But in my opinion, there is only one Photoshop and Photoshop is the best everyday graphics software on the market. But if money is a concern or problem, don't worry, there are plenty of free alternatives to Photoshop. Read about the best Photoshop alternatives here.
Gimp!
Gimp stands for Graphic image manipulation program and it is free and open source. Overall it is similar to Photoshop in many ways, it has layers, filters, and many of the same tools as photoshop, and like Photoshop it also has the ability to add plugins for additional functionality. However for those used to working in photoshop you will find that it may be difficult to work in, and they keyboard shortcuts are completely different in Gimp than in photoshop (although you can remap the shortcuts to mimic photoshop, but that is a difficult and advanced task). Also working with text in Gimp is nowhere near as easy or professional looking as it is in photoshop. Working with text in Gimp is it's bigest flaw in my opinion. But having said that, it is free to use as you please for anything (even commercial work), and it is also available for windows, linux, and mac. You can find more information and the download links at: Gimp.org
Edit



All the designs your business needs to edit in one click
Edit is an excellent online design program which will allow you to create all kinds of useful print materials, such as business cards, flyers, brochures, and a lot more. The interface is very nice and intuitive, very user friendly. Yet you can achieve professional results very easily. And a massive bonus is the millions of royalty free images that are included for free!
Improve sales and the image of your business or organization is very easy. Do you have a business, a restaurant, a shop or a sports club? Great! We have designed thousands of promotions for you that offer visual resources that you can edit online and in a few minutes. Results are easy to obtain and beautiful as if you had a designer on your staff! If you would like to try it out you can find it at: edit.org
Photopea
Photopea is an online copy of photoshop. It is kind of a bare-bones version of photoshop, that is online and free to use. It will read most any photoshop files, and will recognize layers and even text fonts, although I have found that it will tell you what font was used much of the time that font will be missing from the built in font library. Anyway it is pretty smooth for what it is, and it's main selling point is to be able to read, open, and edit photoshop native files. And that it does very well. If you would like to try it out you can find it at: photopea.com
Canva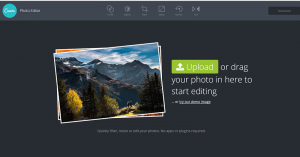 Canva is a simple, drag-and-drop, design software that's completely online and free to use. Canva is pretty nice for photo editing and also for adding effects to your photos. Its also very easy to use the online version, and it's free. Canva has been around for about two years and has over 10 million users. If you would like to try it out you can find it at: Canva.com
Others
I am sure that there are other Photoshop alternatives out there, but the above two are the only two that I have found that even come close to Photoshops features and uses. If you know of any other photoshop alternatives then please post them in the comments section.
Thanks for reading this article!
Shane Zentz