Adding headlights to your photo using photoshop
by Shane Zentz
So you want to add headlights to a photo of a vehicle using photoshop? This (short) tutorial will show you how easy this is with photoshop filters. First you will need a photo of some kind of vehicle, a car, a truck, a motorcycle, or whatever. Here is a generic photo of a corvette with the headlights off. So open your photo in photoshop and lets get to work!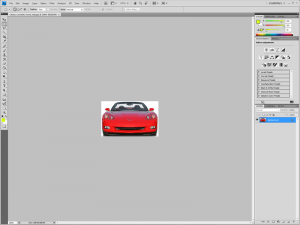 Staying on the main layer with the photo (or make a copy of the layer with the image if you want to keep the original image with the headlights off), select the filter menu and find the 'render' submenu. From there select 'Lens Flare'.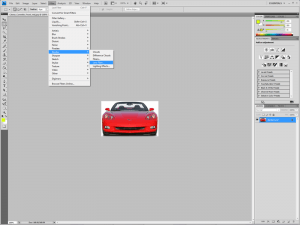 This will open the image in a dialog box with a black crosshair indicating where the light should be rendered.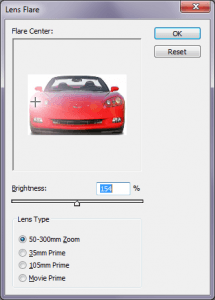 Simply move the crosshair to where the headlight should be, or double click on the headlight area to move the crosshair there. Now you can play with the settings to get the shade and intensity of light that you want. You can even get a xenon light effect with the right settings. Once you are satisified with the settings and location of the first light, click ok to save the change. Then simply repeat the above step to add the second headlight (and keep repeating if you need more lights – like driving lights/fog lights, etc.) but keep the same settings so that the two headlights will be a match. Again save that change and see the result. Cool, right! Here is the final result:
Thanks for reading this photoshop tutorial on adding headlights to a photo.
Shane Zentz