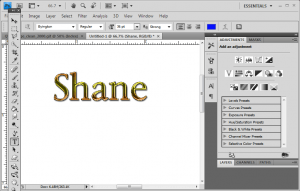 Free Photoshop Text Tutorial
Learn some basic text styling in photoshop
by Shane Zentz
Today I will show you how to achieve some really cool text effects in photoshop, and it is very easy and will only take a few clicks of the mouse to make cool text. This is the kind of text that you see in advertisements and newspapers and magazines, so this kind of text is used all the time and is a basic skill in photoshop. I will break this up into a series of tutorials, so this one will just start with the basics of text in photoshop. But this is not a comprehensive tutorial on text in photoshop, so I assume that you already know how to use the basic text tool in photoshop. I will show how to transform basic text into something cooler and better than just plain old text. So let's get started.
First, open photoshop and start a new document, something around 6″ x 4″ should suffice. If you started a new document with transparency, then create a new layer and add a white background layer, and also create a new layer for the text. Next select the text tool and choose a font and font size from the menu. Almost any font will work, but plain text would be better to start with, avoid the scripts/handwriting styles for now. And make sure that your font size is reasonably large, like a heading font. Type any word you like, maybe just your name. So far you should have something like this:
Not very interesting, but it's a start. Now lets add some effects to this plain text to spice it up. Before adding effects, it is a good idea to 'rasterize' the text, so select the layer with text and right click and select 'rasterize' to rasterize the type. With that done, double click on the text layer to open up the style options dialog.
By adjusting various effects, you can achieve some surprising and cool effects on your plain text. For this first one, I used the drop shadow with default settings and inner glow also with default settings, then added a 1px black stroke as well as a gradient, and also adding bevel and emboss and also contour (both with anti-aliasing). By fiddling with the settings just a little bit I was able to create these:
There are far more advanced things you can do with text in photoshop, so this is just a start. Look for more text photoshop tutorials to come in the near future…..Thanks for reading this blog!
Shane Zentz