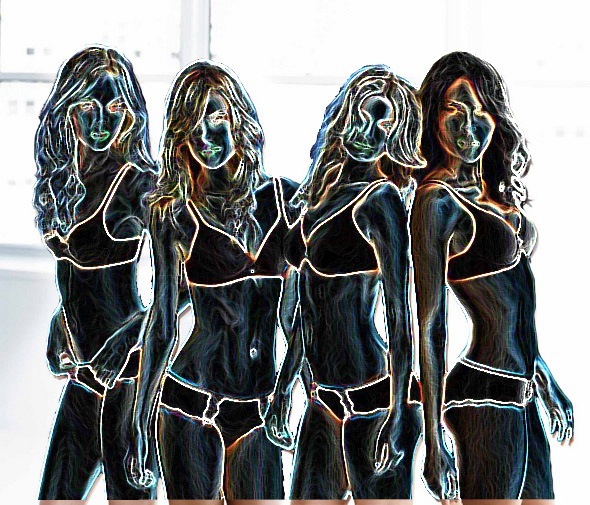 Easy way to create a neon black light effect in Photoshop
So, Open Photoshop and Let's Get Started
This tutorial will show how to change this photo to that:
OK, first thing to do is to load the photo into photoshop, then hit ctrl+j to create a duplicate layer of the background. On this new layer, use whatever tool you want to make a selection of the girls in the photo, I used the lasso tool, but you could also use the pen tool or even the magic wand. After you have the girls in the image as the active selection, ctrl + click (that is hold ctrl key while left clicking with the mouse) on the little image (next to the little eye icon) with the selection in the layers panel (right side). Then hit ctrl+j again to create a new layer with only the girls selected. It should look something like this:
You can see that a little clean up will be needed, so use the eraser tool to remove as much of the white outline around the girls as possible. Then, with this layer as the selected layer, go to the top menu and select: filter -> Stylize -> Glowing Edges. The settings for the glowing edges that I used are: Edge Width: 2, Edge Brightness: 11, Smoothness: 4 , but you should also fiddle with the settings until you achieve the effect that you want. When you have the settings that you like, simply place this edited layer on top of the original background layer to see the new photo.
Here is what the edited photo will look like:
Another thing you can do for a slightly different effect, is to remove the blue from the RGB channel, by going to the top menu bar and selecting -> Image -> Adjustments -> Channel Mixer and setting Blue channel to zero (making sure that the layer with only the girls is active). Here is what the result will be:
You can also try applying other filters to achieve different effects. Here is another filter in photoshop that I used to create a cartoon like effect or a comic book look for this photo:
Try to experiment with all the available filters in photoshop (and even add other filters) to see what you can do with any image. The only limit will be your own imagination. So have fun and thanks for reading this photoshop tutorial….